What is Remote Code Execution?
Written by Super User
Hits: 1876
A remote code execution vulnerability has been reported in Microsoft DirectShow. The vulnerability is due to the way Microsoft DirectShow improperly validates input. A remote attacker could exploit this vulnerability by enticing a target user to open a specially crafted file.
Windows 7
Windows 8 and Windows 8.1
Surface Windows RT and Windows RT 8.1
Windows 10/11
https://technet.microsoft.com/library/security/ms16-007
How much should it cost to fix me phone?
Written by Super User
Hits: 7689
Computer Geekz phone labs charge 50CI for diagnostics in cases that require phone technician attention.
We have purchased almost all mobile devices with our usage package for major cellular companies, Lime, Digicell, and Madstart. As part of the purchase was mostly buying "revisions", so when we had a device malfunction, we approached one of the service centers of major companies and deliver our phone repaired, or replaced if necessary. Today, in an era where the world of mobile phones is completely open, and wherever we can find a store that sells appliances of all types, sizes, and prices, as well as following the change in the cellular world, which led to the situation in which the cellular companies already do not grant credit for the purchase of an instrument through which anyone can actually purchase Any device almost anywhere. This situation has led to people buying a mobile phone, with no obligation from any company, but when their cell phone breaks down, they have no responsibility for repairs which to fix the prepared them. In such a situation the defective phone owners are looking to a laboratory that performs repair mobile phones. Mobile phone repair laboratories are currently available nationwide and repair services offer a variety of mobile phones on the market today. Some labs even allow their customers to ensure their phones a certain cost saving and higher costs for themselves if need repair services. As a result, private labs have replaced the experienced laboratories of major cellular companies. Due to the change, for which the event would impair your device, Do not automatically access the major cellular companies for repair, but will approach a private lab, it is very important that you check and make comparing prices and quality between laboratories. Try to read reviews online, to consult with friends and others, before choosing a laboratory that will repair your device. It is important to check that the person who will take care of the device is a professional and reliable especially important to check that the training has been very relevant and it is a telephone technician certificate. After all, paying for a repair doesn't mean that your mobile phone will not be ruined and the cost of the repair will not be reimbursed. Also, due to the amendments today being performed in private hands, it is very important to make a comparison shopping for a wide market and competition so extensive you can find good deals when you come to fix your device in one of the existing labs.
How can I avoid clicking on malicious links?
Written by Super User
Hits: 2425
Reflected File Download – A New Web Attack Vector
PLEASE NOTE: As promised, I've published a full white paper that is now available for download: White paper "Reflected File Download: A New Web Attack Vector" by Oren Hafif. On October 2014 as part of my talk at the Black…
Worried about Windows 10's deep-reaching user tracking?
Written by Super User
Hits: 2114
All eyes on you Ghacks discovered four recent KB updates for Windows 7 and 8, all designed to send Microsoft regular reports on your machine's activities. KB3068708 – "This update introduces the Diagnostics and Telemetry tracking service to existing devices. By applying this service, you can add benefits from the latest version of Windows to systems that have not yet been upgraded. The update also supports applications that are subscribed to Visual Studio Application Insights." This update replaced KB3022345. KB3075249 – "This update adds telemetry points to the User Account Control (UAC) feature to collect information on elevations that come from low integrity levels." KB3080149 – "This package updates the Diagnostics and Telemetry tracking service to existing devices. This service provides benefits from the latest version of Windows to systems that have not yet been upgraded. The update also supports applications that are subscribed to Visual Studio Application Insights." The latter two updates are flagged as Optional, but KB3068708 holds Recommended status, which means it would be downloaded and installed if you have Windows Updates set to automatic. It's only functional in PCs that participate in Microsoft's Customer Experience Improvement Program, which already sends Microsoft information on how you use your computer. Opting out of the CEIP isn't a single straightforward flip to switch. You have to disable it in all the software you've agreed to use it with. From Microsoft's CEIP website: "Most programs make CEIP options available from the Help menu, although for some products, you might need to check settings, options, or preferences menus. Some pre-release products that are under development might require participation in CEIP to help ensure the final release of the product improves frequently used features and solves common problems that exist in the pre-release software." If you use Office's default settings, it signs you up for Microsoft's CEIP. How-to Geek has a tutorial explaining how to disable it, though if sending information to Microsoft before didn't bother you, this new update probably won't either. Begone! Disabling the tracking tools in the Recommended KB3068708 update isn't simple, either. It connects to vortex-win.data.microsoft.com and settings-win.data.microsoft.com, which are hard-coded to bypass the Windows HOSTS file. In other words, it's tricky to block unless you have a firewall that can block HTTPS connections as well as be configured manually, ExtremeTech explains. There are options in GPEdit. MSC allows you to disable application telemetry and CEIP participation, but it's unknown if they behave correctly after the new patches are installed. uninstall update Where to uninstall updates. (Image ironically taken on Windows 10.) If you don't want these new tracking tools on your PC, the best thing to do seems to be simply uninstalling the offending updates, then blocking them from being reinstalled. To do so, head to Control Panel > Programs > Uninstall or change a program. Here, click View installed updates in the left-hand navigation pane. In the search box in the upper-right corner, search for the KB3068708, KB3022345, KB3075249, and KB3080149 updates by name. If they're installed, they'll pop right up. If you find one, right-click on it and select Uninstall to wipe it from your system. updates To block the updates from being downloaded again, dive back into the Control Panel and head to System and Security > Windows Update > Check for updates. The system will look for updates, then say you have a certain number of updates available, separated by status (Optional, Recommended, Critical). Simply click the recommended updates link, find the KB3068708 and KB3022345 updates, then right-click them and select Hide update. Boom! Done. Now dive into the optional updates and hide KB3075249 and KB3080149 as well.
How to solve slow Windows?
Written by Super User
Hits: 3206
In this article, I will explain how to deal with a slow computer! We'll do some simple things to improve computer performance! 'll Give significant tools for improving PC performance! Includes tips and recommendations. Let's start … For those of us who went out to run a program on our computer, and the computer hangs! The program did not open fast! The program works very slowly, and there are some very important factors slow computer performance, such as more quality hardware components that work in a fast computer, information and low-impact computer performance will be higher, Tools for improving PC performance 1. Remove Software and unused programs Tool for adding and removing software programs allow you to remove programs from your computer in an easy and safe to remove spyware from your computer, click on the button control panel and select the addition or removal of software, in addition, offers another way to the Start Menu and command line Click appwiz. CPL "after selecting the appropriate software Click Uninstall – Uninstall marked red square You can open the two options Add removal. Option 1. 1 Option 2. 2 After selecting the program click on the button – Uninstall 3 2. Remove programs that start automatically with the lighting of the msconfig command computer. This tool allows you to decide what are those programs you want that will initialize the operating system, consider changing or removing a program may result in the software or programs that do not work, you can see, the software is not used or needed in the operation of the computer can be reversed, you can go back and turn it back on, the To run the tool, click on the Start button and select the Start button and then "startup" – Type the command "msconfig" and click OK. See photo – Start, and then "startup" 1 See picture system configuration management tools 2 3. virus scan and malware Viruses and malware are definitely a factor in slow computer, there are many tools to prevent spyware and viruses, worms, and all the rest, smote you several free tools for testing computer, I'd be happy to assist further treatment after all the tools which are given in the article. The first tool free! Windows Defender is the control panel of each computer, 11 (Sometimes the software will not be available from blocking anti-virus software! Virus! Spyware! In this case, you will work if other tool Registration can article 2. two free tools online testing of viruses Accountant Eset Not32 Online Click the link below for download to test computer Eset Nod32 OnLine 21 3. The third tool is the free installation of anti-virus software Microsoft Security Essentials This software provides real-time protection against viruses! Spyware! Malware! Download and install the software from the link next to Microsoft Security Essentials 4. Delete Temporary Internet Files Temporary Internet Files folder is used by Internet Explorer or other web browsers to store the contents of the web pages for quick viewing of pages already surfboard at least once. This memory (cache) allows Internet browsers to update new content since the last play of Web pages. To delete the files Temporary Internet Files directory, do the following: As of operating systems and Hindu 7 or higher. Have to go to the Start menu. Then select Control Panel and choose Network and Internet. Me Internet Explorer select Internet Options Select the General tab under the Browsing History option. Select Delete all (have to leave your web browser and reconvene) In order to perform the cleaning operation automatically, click on the following link Microsoft Fix it 50472 (Run the file) 1 5. Delete the temporary files on your computer – Temporary Files Temporary files are created by the computer operating system and software installed on your computer. These files are created because there is not enough physical memory available to the active program, these files do not contain relevant information and they are consumed only when the program is active. Deleting files is done manually with a number of options. Option 1. Should enter the operating line and register the command% Temp% then we will directly Hkbtziim folder. Capture Check all files and then press Shift + Delete button 22 Option 2 (not recommended) log in to my computer. Select your hard drive: C Microsoft directory selection Search players folder Temp Attention! Many computers can not see the command line, and use the search bar. Another option is added to the command line by 1. Yemeni button start button. 2. The selection of features. 3. Then select Custom 4. select from the list the command line (Run) 2 6. Hard disk defragmentation. Disk defragmentation process tool unites fragmented data storage media to operate more efficiently and wrong, Disk Defragmenter can run on a schedule You can activate two modes of hard disk defragmenter. Click on the Start button and then on the command line Type diskmgmt.msc Have to go to the Start menu. Then click All Programs. Selection takes place for accessories. Then select the System Tools and select Disk Defragmenter.
What is Office 365?
Written by Super User
Hits: 2406
The concept of cloud computing is growing all the time and more recently Microsoft has jumped on the bandwagon. Office 365 is Microsoft's answer to cloud computing. Office 365 is Microsoft's productivity suite that offers tools for small, medium, and large, access to email, documents, contacts, and calendars by browser from any computer. This is not a new version of Microsoft Office. The package includes, Microsoft Exchange, Microsoft SharePoint, and Microsoft Lync, everything runs through the cloud.
Office 365 is a complete solution that includes browser-based access from anywhere, in fact, email, document management, and collaboration solutions for professionals, and small and medium businesses. To package can be accessed from most devices, including PC, Mac, Windows Phone, iPhone, Android, and BlackBerry. If you already use Microsoft software such as Word, Excel, and PowerPoint, Office 365 works with these solutions. The management interface of Microsoft Office 365 is easy to operate and allows the IT administrator to easily control user accounts, access rights, and broad enterprise deployment.
Office 365 is characterized by smart security based on recent defense mechanisms against viruses and spam. Disaster recovery is handled through multiple data centers and automatic failover in case of failure and provides 99.9% guaranteed uptime. Plan an Enterprise Office 365 allows users to connect to SharePoint using secure HTTPS connections and SSL encrypted. Simply put, this means that encryption system for the secure transfer of documents on the web. However, only Enterprise programs will use this protection, programs for small business users and professional programs will not accept encrypted SSL protection.
As with any cloud computing solution, Office 365 reduces the time and cost of computer technicians who were wasting time repairing, upgrading, or updating servers. In addition, Office 365 provides the flexibility of working from virtually anywhere on any device. Programs designed for medium-sized businesses offer IT support 24/7 by phone format, the Internet, or email, and there are plenty of online tutorials. Price-wise service offers an option to pay per use and the possibility to try free for 30 days.
The computer is broken
Written by Super User
Hits: 2476
The computer is broken, do not even have to leave the house/business, all you have to do is call our service center phone 345 943 3500 and a service representative will be happy to help you and guide you, after a little investigating and, if necessary * send you a messenger who will pick up the laptop from the business/home We Evaluated and fix the problem and then return the computer messenger to you, so you save time and get to the service Ma`. Mobile Computer Repair Services (read expansion of services and click appropriate title): 1. replacement screen – you broke the screen on my computer? We have a warehouse of spare parts for laptops and a large stock of different types of screens, we can provide you with a screen, without having to wait for the screen ordering unnecessary and the like. 2. Cleaning Computer – The computer gets hot? Recommended to come to the lab and clean the dust clogging the computer may vent and cause the computer to warm up. 3. Replacing Fans – computer fan stopped working, it is highly recommended to get the first opportunity to the lab and replace the fan. 4. replacing video cards – turn on the machine and the screen turns off after No. minutes? The screen does not rise at all, may the problem is the screen as well as a video card, you can contact us and diagnostics of the fault. 5. Memory Upgrade – you bought a laptop and its memory does not fill the need, we can get a service laboratory of expandable memory. 6. Replacement laptop keyboard – do not see the letters on the keyboard? Press the keys and they do not work? Broken keys? No need to replace the entire computer, in our lab you can get the service laptop keyboard replacement. 7. Installing the operating system – you bought a new laptop with no OS, we can get service operating system installation, installing Office, antivirus, and more. 
LCD screen how it works
Written by Super User
Hits: 2527
In recent years, most buyers of computer monitors and large television screens buyers choose LCD screens. Apart from the data size and screen resolution, it is important to know what type of panel (panel Hebrew) of the screen you are purchasing. The panel is actually the heart of the screen, is the most significant factor for picture quality, and affects the basic data such as contrast, viewing angles, and more. Your needs should determine the type of panel you wish to purchase, the panel will illuminate to your eyes for many hours of watching. On the back side of the screen, the power supply is in charge of the power supply, current alignment, and filtering of unwanted interference from the power supply. The side is the video processing unit, its function is to receive the video signal coming from your PC or other source and make it different image processing; In case the signal came an analog VGA connector, it will be converted to a digital signal before then processed. Go through the closed panel unit. If we open it, we find the following parts: Backlight: On the back wall of the screen panel lighting units are, in most fluorescent lamps screens are long and thin. Lately, began to enter and also agree that includes expensive LED bulbs – the whole area of ​​the screen. These can be found, for example, in laptops like the Dell XPS or the Apple iPhone. We the light from these lamps we wish to spread evenly – so the lighting intensity will be the same in all parts of the picture. To do this, use a diffuser light (Diffuser) that receives the light of its lights various spreads it evenly, and passes it forward to the user. Then, the light passes through several filters and polarizers, which filter unwanted light waves and polarizers the light that reaches a uniform direction to the panel. The panel itself is made ​​of liquid crystals, and the video image processing has appropriate, translated into a series of streams that are transmitted through the crystal panel. Features crystals allow them to change their molecule's angle depending on stream passes. Crystal angle determines how much light passes through it, the screen lit various parts differently. Each pixel consists of 3 sub-pixels of red, green, and blue, together they form the range of visible colors. Three families of LCD panels Many are unaware that there are different types of panels, they differ from the properties of the crystals that make them. There are three families that have different panels' quality picture performances. 1. TN panel Pros: fast response time, cheap, low energy consumption. Cons: depth of a six-bit color only, contrast and viewing angles are inferior. Uses Average Internet browsing, office work (documents), and laptops (due to low cost and low power consumption). In fact, a screen with a TN panel is suitable for anyone looking for an LCD screen for use "rules" (non-professional) relatively cheaply. 2. VA panel Advantages: eight-bit color depth, high contrast ratio, improved viewing angles with respect to the Panel TN. Cons: less wide viewing angle IPS panels, high energy consumption in relation to a panel, TN, a higher price. Uses good image quality in general use (web and documents), the possibility to work graphically, and improved picture quality for TV monitors. 3. IPS panel Pros: Best viewing angles compared to the other two types, high-quality color (eight-bit), and good contrast (though not at the level of VA panels). Disadvantages: higher power consumption compared with other types of panels, requires strong backlighting. Applications: professional graphics work, very good image quality for general use (and prolonged computer work), improved picture quality for TV monitors. What are the differences between the panels? Features various panels families crystals are those that determine image quality basic parameters, such as those of the screens features derived directly from the quality of the panel: Viewing angles When'll draw to the right-left or up and down, the screen has a narrow viewing angle, the image shuts down or you'll get whiter will obscure the picture, also the color will lose their original hue. Color depth TN panels present a picture-quality six-bit color channel, which leads to only displaying 262,000 colors. Using artificial methods (interpolation) manufacturers fail to show 16.2 million colors or more, but the quality is not equal to the more expensive panels. VA and IPS panel's quality image display eight-bit color, so the screen will show the true colors of 16.7 million. Contrast (static) Represents the greatest proportion (to make it to the panel) between the darkest bright spot in the picture. The high-contrast panel displays an image with greater depth. Contrast (Dynamic) To increase the contrast ratio, the manufacturers use different methods: the radicalization of the black and white image with the video processor (which can damage the presentation details of the dark parts of the picture) or amplification of weak intensity of the backlight. A weakness of LCD screens is the fact that the lighting is on their back without a break (as opposed to plasma or CRT screens), it is very difficult to block it entirely, which hurts the depth of black color and makes it in many cases to gray. Therefore, when viewing dark scenes that are problematic for the screen, the backlight is darkened and prevents leakage of light in the image. Darkening or increasing the lighting is not immediate and therefore often can be detected as light intensity changes. Response Time Represents the length of time that the individual pixel goes from white to black and vice versa, measured in milliseconds. Due to the fact that a single standard manufacturers are committed to, choosing any of them to display measurement data were conducted using different methods, some manufacturers measure gray to gray response time (which displays results faster, apparently). In the past, TN screens displayed the shortest response times, but now, with the help of various techniques, most types of panels show good results, in reality, most of the new screens do not suffer from the problem of spreading visibly. So how to recognize the type of panel? The dissolution of the panel screen, reveals a sticker on the back. This example shows that the panel is made in a factory joint panel of LG and Philips. A Google search of the model code LM170E01 panel shows that this is a 17-inch TN type with a response speed of 16 ms. The panel type is not specified on the data it provides the manufacturer, nor even a particular model will be sold as it comes with different types of panels, of course, we can not begin to dismantle agree on stores as customers. But there are a few tips to identify the panel: Price: Most LCD monitors come with a cheap TN panel type. Glimpse data sheet: 16.2 million figure indicates colors TN panel (although some manufacturers have begun to note given 16.7 million, mainly for marketing reasons). Research: information on the exact model forums and product review sites. Database: Use FlatPanel's huge database that includes panels on many models. All in accordance with the needs Knowing the needs serve as the LCD screen you wish to buy, be it a computer or television screen. If you would like to purchase a screen that provides an impressive ratio of the size of the price, only for general uses, you will be satisfied with a TN panel LCD panel: For example, the total price TN 22-inch is typically cheaper compared to a smaller screen, for example, 20 inches, but with a high-quality panel compared. But, if you want to purchase a screen for professional use (such as graphics) or for prolonged work at a computer, you may want to spend more and get a quality panel that will provide you with hours of fun from the screen.
System solutions
Written by Super User
Hits: 3739
Department – System Professional Services is engaged in the design and implementation of complex projects in infrastructure Systems, the establishment of mail systems to design virtual server farms in the cloud. We work with leading solutions from companies such as Microsoft, Symantec, Citrix, and others
The department offers complex solutions in virtualization bringing maintenance cost savings, improved availability and reliability of infrastructure, Migrating data centers and virtual world systems, and decentralization is true of processing power and power equipment. Another service is the establishment of a centralized systems management and distribution of software and Images including a collection of hardware and software for end stations and servers, and producing complex reports.
The department provides a range of solutions to upgrade, use, and adaptation of applications for Windows 7, advanced backup solutions according to customer requirements and upgrading existing enterprise backup systems, establishing central monitoring systems, improving system availability, complex solutions in the email and automation solutions and development of computer systems.
We offer services in the characterization and execution of projects, complex malfunctions, upgrading infrastructure with minimal downtime, and improving infrastructure in the organization by implementing smart solutions providing ongoing maintenance of System infrastructure at a predetermined SLA.
We specialize in creating computing solutions based on advanced technologies of hardware and software providers world's leading business organizations, providing a complete and comprehensive array of IT solutions.
Communications solutions
Computer Geekz offers solutions that combine consulting, design, construction, maintenance, and support of communications infrastructures passive and active, establishing computer rooms, Date centers, control rooms, telephone exchanges, and more.
Computer Geekz offers of the enterprise information, to protect it, back it up using different methods tailored to the needs of the organization, and to offer a disaster recovery plan as part of a wider program that will ensure business continuity 
Invalid windows / activation problems
Written by Super User
Hits: 2188
Since the site does not support the provision of support to illegal content
'll Assume your disposal of a legal copy of Huweindos
Case Microsoft published a solution for users that happened to accidentally
See here:
http://support.microsoft.com/kb/921914/he
There are also programs that can solve this problem but they are not illegal
————————————————
Huweindos laws, but still you can not activate them?
Common fault when making activation:
http://www.takala.co.il/forum/forum_posts.asp?TID=4046&P N = 1 & TPN = 1
Microsoft has started to distribute software updates examine the legality of copies of Windows 7
No update: KB971033
Additional information:
http://tech.walla.co.il/?w=/4/1647003
Problem watching video on your PC?
Written by Super User
Hits: 1923
If you're trying to watch a movie or video on your computer and you see a picture or hear the sound you must install encoders. 
Click here to download coded computer – if you have installed previously encoded, have to be removed before installing this.
The sound disappears computer?
Written by Super User
Hits: 1663
The sound disappears computer
One. Ensure sound card drivers are installed properly.
If Device Manager shows a yellow question mark next to Write Multimedia / Audio Multimedia Controller
So might sound card drivers are not installed on your computer.
Whether Device Manager under sound, video, and game controller
– There is a word Audio of the words (eg AC97 AUDIO) so might sound card drivers be installed
Blockers. Currently can skip to Section 3.
Or – An exclamation point might sound like card drivers are not installed correctly and now have to remove and reinstall.
Or – Does not have any line with the word Audio or missing driver's line then you may need to enable the system
Sound bios (ie, make to Enable).
Three. If the sound card driver is installed and still no sound.
A. Sure the speakers are connected to the computer (usually a green connection.) Make sure your speakers are correct. Friend
Other speakers or headphones' integrity And test.
In. Should check if your computer has a sound of some software. Whether only one software probably does not sound like a specific problem
Software Certain. Remove and reinstall the software or inquire about The software.
C. Ensure that the volume is not on mute (Mute) and in addition, ensure high volume.
Four. Reconstruct the default settings of Windows Audio Service.
Rg'stri will install the file from the following link –
http://www.kellys-korner-xp.com/regs_edits/audiosvr.reg
Five. Still not working? Remove the sound card driver from Safe Mode   And reinstall.
Six. The extent of the steps did not help the more likely the sound card is invalid. Currently recommended to contact
Qualified computer technician (most computers' sound card today is part of the motherboard so you should make sure
There is a responsibility on the motherboard).
Audio glitches Intel boards –
Computer will not start?
Written by Super User
Hits: 1726
A. Machine will not start
1. Verify that the computer is plugged in.
2. Whether the power supply fan spinning?
Is lit bulbs (LED) on the front of the computer? (If yes go to Section B)
3. Disconnect all external devices (scanner, printer, modem, etc.).
4. Except for the electrical cable supplier. Friend back after half a minute.
5. Try to connect your computer to another room.
In. The machine turns on, but no screen lights
One. Whether LED screen on? If so what color?
Two. Ensure that the cable screen is connected to the device right? (If there are some. Combined total plus Integrated video card does not have a friend to not incorporated)
Three. No. Mtzftztz (over one beep)? Hardware failure. Remove and insert the graphics card and memory check.
Four. Whether another screen must be connected to a computer to be sure the problem is on the screen.
Five. Sometimes resetting BIOS can solve the problem.
For help contact the Site support team
Mobile companies agree (when screen issue and not your computer):
Why would your computer automatically restart after being turned off?
Written by Super User
Hits: 1751
All Windows versions have the same function. From the Start button, select menu/programs/accessories/system tools/system information, then click on the tools menu and select system configuration utility. 
When the program opens, you'll see an advanced button in the bottom right corner. Press it. 
Make sure you have disabled fast shutdown (CHECKED). Press OK/OK. If it prompts for restart, don't do it, you don't need to. Press cancel on that screen and then shut down as you would normally. 
Answer
I have found I think the answer to that question, although I haven't had the time to test it since it is on a friend's computer using XP pro. but you can if you like. go to the bios and check your modem if you are on a phone line and disable the auto-start feature…You may find it only restarts when a call comes in… 
Answer
The bios settings turn the computer on automatically. I actually have mine set to turn on automatically in the morning before I get out of bed so it's already on when I get up. 
Watch what you see on your screen as you boot up the computer and do whatever it tells you to do to boot up in bios (typically by hitting the F2 or Del key). Once in bios, go to the power section. In the power setting, you should see something pertaining to the modem. If you do NOT want it to power up automatically, choose the Disable option. 
If you DO want to power it up automatically, it will also ask for a time (day of month, hour, minute). If you set the day as 1, for example, it will power up on the 1st of the month at the time that is set. If you set the day of the month to zero (0), it will power up every day at that time
Cloud Computing
Written by Super User
Hits: 8239
In the simplest terms, cloud computing means storing and accessing data and programs over the Internet instead of your computer's hard drive. The cloud is just a metaphor for the Internet. It goes back to the days of flowcharts and presentations that would represent the gigantic server-farm infrastructure of the Internet as nothing but a puffy, white cumulonimbus cloud, accepting connections and doling out information as it floats.
What cloud computing is not about is your hard drive. When you store data on–or run programs from the hard drive, that's called local storage and computing. Everything you need is physically close to you, which means accessing your data is fast and easy (for that one computer, or others on the local network). Working off your hard drive is how the computer industry functioned for decades and some argue it's still superior to cloud computing, for reasons I'll explain shortly.
The cloud is also not about having a dedicated hardware server in residence. Storing data on a home or office network does not count as utilizing the cloud.
For it to be considered "cloud computing," you need to access your data or your programs over the Internet, or at the very least, have that data synchronized with other information over the Net. In a big business, you may know all there is to know about what's on the other side of the connection; as an individual user, you may never have any idea what kind of massive data-processing is happening on the other end. The end result is the same: with an online connection, cloud computing can be done anywhere, anytime.
Consumer vs. Business
Let's be clear here. We're talking about cloud computing as it impacts individual consumers—those of us who sit back at home or in small-to-medium offices and use the Internet on a regular basis.
There is an entirely different "cloud" when it comes to business. Some businesses choose to implement Software-as-a-Service (SaaS), where the business subscribes to an application it accesses over the Internet. (Think Salesforce.com.) There's also Platform-as-a-Service (PaaS), where a business can create its own custom applications for use by all in the company. And don't forget the mighty Infrastructure-as-a-Service (IaaS), where players like Amazon, Google, and Rackspace provide a backbone that can be "rented out" by other companies. (Think Netflix providing services to you because it's a customer of the cloud-services at Amazon.)
Of course, cloud computing is big business: McKinsey & Company, a global management consulting firm, claims that 80 percent of the large companies in North America that it's surveyed are either looking at using cloud services—or already have. The market is on its way to generating $100 billion a year.
For a great look at more examples of business services in the cloud, read our 20 Top Cloud Services for Small Business.
Shut down PC?
Written by Super User
Hits: 6474
Shutting down regularly is a practical option, but it's not without its downsides. Let's take a look at the pros and cons, and what you can do to remedy the disadvantages.
Pros
Lower energy costs

 

– Computers can draw a large amount of power, especially if you're running a high-end desktop. Shutting your machine down when it isn't in use will prevent excessive and unnecessary use of power, wasting less energy and saving you money on your electric bill.
Fewer temporary system issues

 

– Those who keep their machines booted up indefinitely are familiar with the little problems that crop up when a computer is in use for a long time. Strange little problems occur and they're often solved by a reboot. If you're essentially rebooting every day, you're giving your machine a fresh start. This helps avoid minor system issues.
Quiet hours

 

– When your machine is running, it's capable of making noise. The sounds of the fans can be bothersome if you're sleeping in the same room, but you also run the risk of the computer playing an alert or other sound unexpectedly. This is easily rectified by muting your sound every night, but you run the risk of forgetting. (Of course, you can automate that process on Windows and OS X pretty easily.)
A longer-lasting machine

 

– While you can never really know when your computer is going to fail, less stress placed on its components will contribute to a longer life. You still have to keep it clean, dust-free, and well-maintained, but less activity can help your hardware last longer.
Cons
Inconvenience

 

– The biggest disadvantage of shutting down and booting up on a daily cycle is that it's inconvenient. You have to get everything in order to shut down each night and wait to start up in the morning. On top of that, if you forget to boot up and need to access your machine while you're, say, at the office, you won't be able to because it's offline. This problem is easily solved by automating the shutdown and start-up process. Doing so puts your computer on a schedule so you won't have much of an inconvenience at all.
Energy used for nothing

 

– While you certainly save energy by shutting down your machine, it'll still draw power when off. While an operating desktop would draw a lot more, it would, at least, be capable of doing something while you're away. This problem is easily remedied, however, with a power-regulating socket like the Belkin Conserve ($10). Alternatively, if your desktop supports it, you can use it as a USB device charger overnight so that small power draw isn't going to waste.

You can just hibernate instead

 

– Why shut down when you can hibernate? Hibernation draws about as much power and saves the current working state of your machine so you can resume right where you left off. This is a standard operation for Windows machines, but OS X can use it, too. Apple calls hibernation "Safe Sleep," and it's only regularly employed on laptops when the battery levels are critically low. You can enable this feature at will, however, with apps like SafeSleep and SmartSleep. You can also save power by simply sleeping on your computer, which has the advantage of waking up faster (although if you're using an SSD that gain is negligible), but the power consumption is considerably higher. To get a specific idea of how your devices consume power in their various modes, check out this comparison table.
Never Shutting Down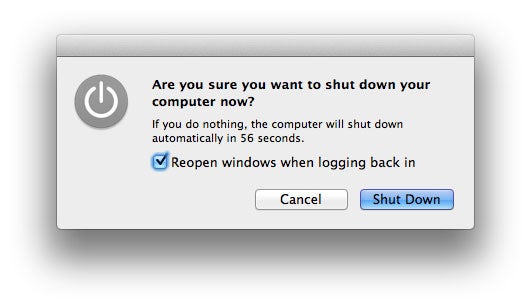 Expand
Keeping your computer powered on is the more convenient option. It offers a few distinct advantages that can save you a bit of time and frustration, but also has a few major downsides of its own.
Pros
Your machine's always ready to go

 

– It's nice to be able to sit down at your machine and just start working without any setup necessary. Such luxury comes at a cost—a higher electric bill—but that may be worthwhile depending on your needs.
Your computer can work while you sleep

 

– There are plenty of ways your computer can work while you sleep. It can perform tasks like backup, system maintenance, video encoding, software updates, downloading, uploading, and virtually anything else it can do without your presence. This is a great opportunity to perform intensive tasks when they won't encumber your work.
Run a server

 

– If your computer's on all the time, you can use it to serve up whatever you want. Perhaps you just want the machine to be remotely accessible while you're away from home, or you'd rather host a website from your house. Whatever the case may be, if you're computer's always online you can serve up most anything.
Cons
Heavy power usage

 

– Running your computer 24/7 draws a lot of power. If there's any reason to turn your machine off with any regularity, it's to avoid wasting resources and save some money on your electric bill.
Rebooting can be a pain

 

– If you're not accustomed to shutting down regularly, the rare reboot can be pretty annoying. Aside from just feeling more like an inconvenience, you'll never be prepared to shut down. If you have several documents, browser windows, applications, and services running, you probably do not have a process in place to easily suspend everything when necessary. OS X Lion (and Mountain Lion) users have the advantage of the Resume feature, which allows you to restore the computer to the working state it was in before shutting down, but that only works perfectly if all your apps support it. Rebooting isn't some horrible, horrible thing, but it is an inconvenience if you're not used to it.
Backed up your data?
Written by Super User
Hits: 7172
A complete system backup, such as a disk image, will help you recover quickly from a drive failure or other catastrophe, but it adds the expense of a second hard drive (or potentially extensive disc swapping if you use your optical drive). The best time to create a drive image is immediately after you reinstall Windows and get your applications running again. An image containing a patched copy of Windows and all your favorite programs configured the way you want them is a very useful thing to have at hand.